If you haven't tasted a juicy, tropical fruit-flavored, hop-infused, hazy New England Pale Ale beer, you're missing out. Homebrewing a NEIPA beer can be challenging, but you won't be sorry you did. Let's check out a great NEIPA recipe and learn how to brew it!
Brewing a NEIPA beer starts with quality, fresh ingredients like fruity hops, yeasts with fruity esters, and high protein mixes of malted grains. Dry-hopping several times during brewing produces a highly hopped, smooth, aromatic, and deliciously fruity beer. Paying careful attention to the brewing details will yield one delicious beer.
Read on to learn what a NEIPA is, what goes in it, and how to brew it. There is even a sample recipe at the end to get you started. What are you waiting for?
What is a NEIPA (New England India Pale Ale)?
If you drink beer regularly, you're probably already familiar with the popular IPA, but have you tried the New England sub-style? These beers may be found under the names Juicy, Hazy, or NEIPA (pronounced nee-pa).
NEIPAs emphasize the aroma and flavor of a pale ale without the stringent hop bitterness. They are hazy, intensely fruity, medium to medium-full-bodied, and moderately carbonated with a silky mouthfeel. NEIPA is often described as juicy tasting with strong flavors of tropical fruit, stone fruit, citrus, and pineapple with a smooth, dry finish.
Special yeast strains are also used to complement the fruity flavors and aromas. They are hazy and unfiltered by design ranging in color from light golden yellow to golden orange. Intensely dry-hopped, NEIPA is often brewed with several varieties of hops that accentuate the fruit flavors and aromas while smoothing out the hop bitterness.
NEIPA generally have higher alcohol by volume (ABV) than other pale ales and range between 6-9% ABV. International Bitterness Units (IBU) for NEIPA range from 25-50.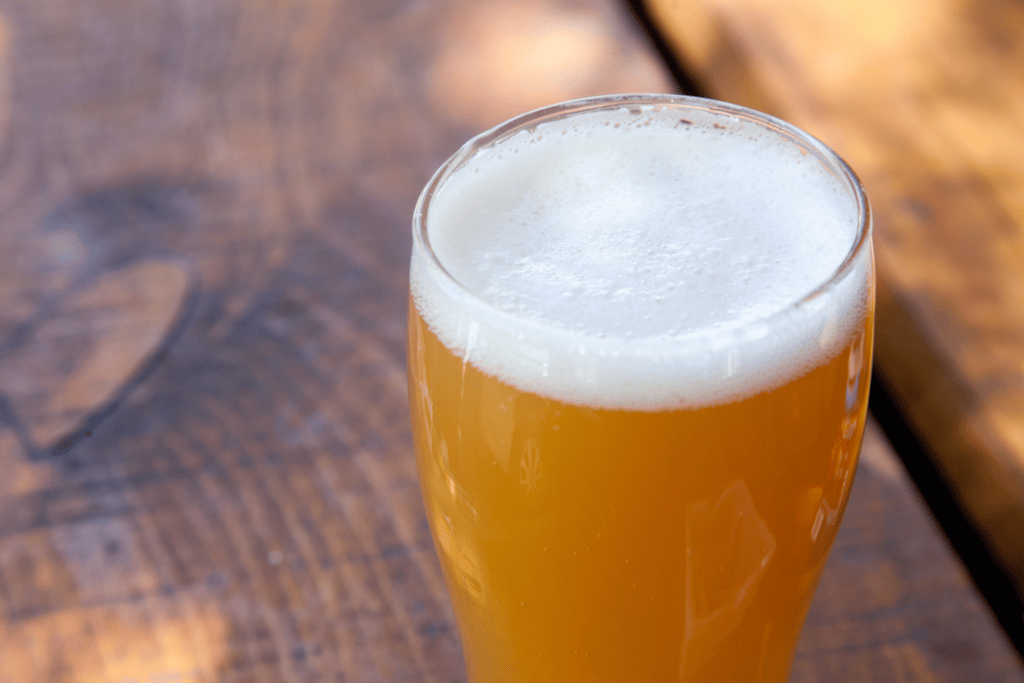 History of the NEIPA style
NEIPA as a style is a relative newcomer to the craft beer world. Its popularity exploded after the Beer Judge Certification Program (BJCP) released its style guidelines in 2015.
The history of the NEIPA style began in 2011 at The Alchemist Brewery in Vermont under brewer John Kimmich. Kimmich experimented with an IPA recipe to create a hazy, smooth, hop-forward, fruity beer pale ale called Heady Topper. It was an instant hit locally but started a new trend when a new classification was created for it by the BJCP.
Since that time, it has become a popular style of beer due to its bright flavors and hop-forward character without bitterness. Heady Topper, the original NEIPA, was made with British barley, American Hops, and an English strain of yeast given to Kimmich by his brewing mentor Greg Noonan.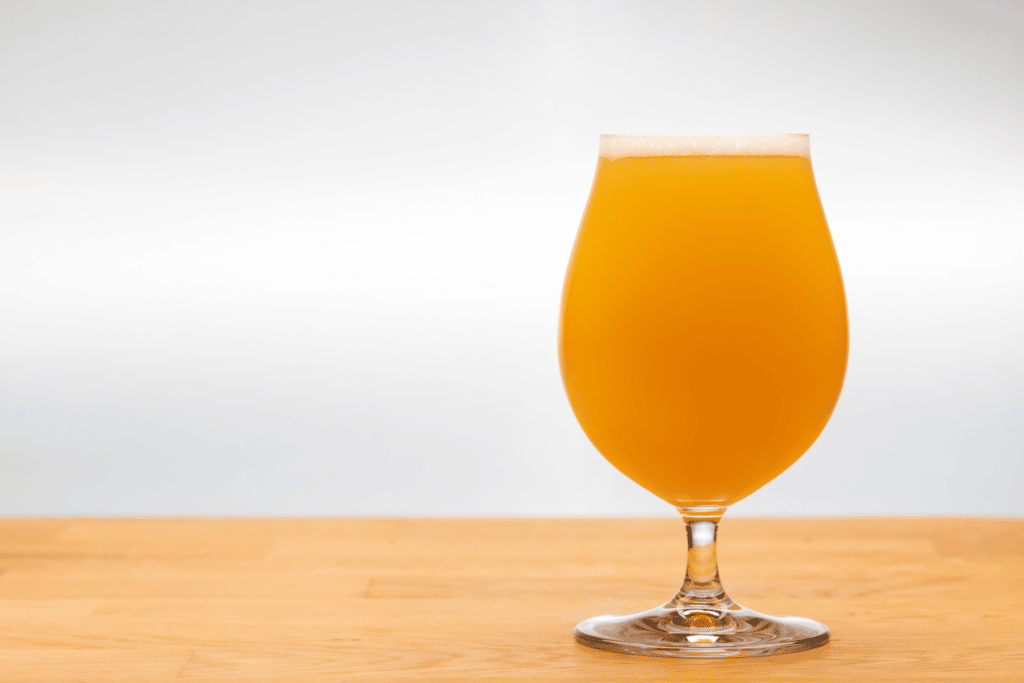 Popular commercial NEIPAs
As is the case with many beer trends, once the style took off within the craft brewing community, popular commercial NEIPA began showing up everywhere. The less bitter, fruitier cousin of the West Coast IPA has become a hit nationwide in recent years.
You know a style is popular when it's picked up by big breweries like Samuel Adams, Sierra Nevada, and New Belgium.
If you're new to NEIPA, give one of these popular brews a try:
New Belgium's Voodoo Ranger – Golden coppery color. Packed with bright tropical aromas and brilliant citrusy flavors all wrapped up in a refreshingly smooth finish. Brewed with Citra, Cascade, Centennial, Simcoe, and Nugget hops. 7.5% ABV.
Brewdog's Hazy Jane – Hazy golden-orange in color. Intense juicy fruit character with flavors of pineapple, stone fruit, mango, light resin, and hints of lime peel. Full-bodied and smooth. 7.2% ABV. Brewed with Amarillo, Chinook, Citra, Mosaic, and Simcoe hops.
Sierra Nevada's Hazy Little Thing – Orange-gold and opaque in color. Tropical fruit and pineapple aroma with a medium-light mouthfeel and deliciously juicy flavor. Aggressively dry-hopped with a fruit-forward flavor, modest bitterness, and smooth finish. 6.7% ABV.
Sam Adams' Wicked Hazy – Cloudy and golden-yellow in color. Bursting with fresh fruit aroma with punches of orange, mango, and pineapple. Full flavor with a smooth, clean finish 7% ABV.
Bell's Official Hazy IPA – Hazy golden-orange in color. This hazy IPA is double dry-hopped with Mosaic, Citra, Azacca, Amarillo, and El Dorado hops paired with delicious wheat malt. Complex peach, stone fruit, and tropical notes with a dry finish and balanced bitterness. 6.4% ABV.
If you want MORE suggestions, check out the full list of the best NEIPAs to try in 2022!
Popular NEIPA recipe kits (all-grain or extract)
Recipe and ingredients for New England India Pale Ale (NEIPA)
Brewing a NEIPA at home can be challenging. Many factors in the brewing process contribute to the beer's unique characteristics, and they can also ruin it at nearly any stage.
This means you need to know what ingredients work best for the style, including:
Water profile
Base grains
Specialty grains or other additions
Hops
Yeast
With proper planning and consideration for choosing the appropriate ingredients and understanding how to work with the different brewing challenges presented, brewing a NEIPA at home can be an extremely satisfying experience.
When creating or following a recipe, it's imperative that you follow the directions closely and select quality ingredients. Consider how they contribute to the flavor, color, aroma, and mouthfeel. Hops, yeast, and malts have an enormous impact on the signature flavor, color, aroma, and mouthfeel of a NEIPA.
The brewing process is just as important as the ingredients. One of the key characteristics of the NEIPA style is the smooth, fruity hoppiness. This comes from the addition of several types of hops added during different stages of the brewing process.
Lastly, minimizing oxygen exposure for brewing any beer is important. But, it's especially important to maintain the delicate flavors and aromas of the NEIPA.
Let's look deeper into each of these areas and learn how to brew a New England Pale Ale (NEIPA).
Water profile
NEIPA are sensitive beers. In a hazy IPA that is extensively dry-hopped, unintended flavors have a way of making themselves known.
The water profile of a NEIPA is important to its delicate flavor, and aroma. Mineral levels in the water can impact the characteristic haze and head as well. NEIPA requires a water base higher in calcium chloride and lower in sulfate. This adjustment to the water profile also helps give the beer its silky mouthfeel.
For a detailed breakdown of the perfect water profile for a NEIPA, check out this post.
Base grains
Since NEIPA are a hazy beer, using light-colored grains is necessary to keep the beer from appearing too dark.
The typical base grain used for brewing a NEIPA is English or American 2-row. It is lighter than pale malt and has a sweet, clean cracker-flavored profile. Base malts typically make up 80-90% of the grain bill on most all-grain beers.
Maris Otter and Golden Promise are two widely used English 2-row malts that have more depth of flavor than American 2-row.
| Base Grain | Description | Grain Bill |
| --- | --- | --- |
| Golden Promise Maris Otter | English base malts that provide a big mouthfeel with excellent body that balances out even aggressive hops. | 30-40% |
| 2-Row | American base malt. A mix of two or more grains that provide a light, clean, smooth, grainy, crackery, flavor. | 80-90% |
Specialty grains or other additions
When brewing NEIPA, you should use specialty grains sparingly to keep from overpowering the trademark flavors and appearance of the beer.
Specialty grains are unmalted grains such as raw wheat, oats, and barley. They produce unfermentable sugar that contributes to the body of your beer. High protein specialty grains like oats and wheat impart specific characteristics to beer, such as haziness, color, malt sweetness, aroma, and a pillowy soft mouthfeel.
Carapils malt and crystal malt are also used to add flavor and body.
| Base Grain | Description | Grain Bill |
| --- | --- | --- |
| Crystal Malt | Adds color, sweetness, and mouthfeel. Use in small quantities because it can be overpowering. | 3-5% |
| Dextrin Malt | Carapils and Carafoam are light-colored malts used for improved mouthfeel and better head retention. | 2-3% |
| Flaked Barley | Adds a malty sweetness and a good hop aroma. | 10-20% |
| Flaked Oats | Adds a soft creamy mouthfeel and a silky head retention. | 10-20% |
| Flaked Rye | A very mild flavor that adds body, mouthfeel, and a creamy head. | 10-20% |
| Flaked Wheat | Adds smoothness and a soft mouthfeel. | 10-20% |
| Honey Malt | Adds a light sweetness with a nutty aroma and a pleasant golden color. | 3-5% |
| Oat Malt | Creates a creamy, velvety texture and imparts a toasted biscuit aroma and flavor. Has more grainy flavor than caked oats. | 20-50% |
| Wheat Malt | Extremely light malt with sweet, malty taste with a hint of fruit flavors. Higher in protein, which creates a fuller bodied beer. | 10-15% |
Hops
The hops are the hallmark of the NEIPA beer style, so their selection is important to your beer's overall flavor and aroma.
The types of hops used provide juiciness and smooth hoppy flavor. Many brewers use Citra, Galaxy, and Mosaic for their intense tropical fruit flavors. It's recommended that you buy the highest quality hops you can find, and start with just 2 or 3 varieties so it's easier to pinpoint what's working and what's not.
Amarillo, Cascade, and Simcoe are popular dual-use hops used to balance NEIPA. They impart refreshing citrusy flavors and aromas. There are many varieties of hops to choose from, so start simply and choose a couple that imparts the qualities you're looking for in your finished beer.
Bittering
Without bittering hops, all types of beer would be cloyingly sweet. For that reason, hops are added at the beginning of the boiling process to add balance. These are usually bittering hops. Bittering hops also help to support and balance the flavors of heavy dry hopping for NEIPA.
Bittering hops are high in alpha acids and are favored for their bittering qualities. When added during the boil they release a bitter-tasting isohumulone. The alpha acid value is used to formulate the beer's final bitterness or IBUs. Bittering hops with 10%-15% alpha acid percentages are best suited for NEIPA.
Several dual-purpose hops can be used as bittering hops due to their high alpha acid percentages. Here are some good options for bittering hops to use in NEIPA beers:
| Variety | Alpha Min | Alpha Max | When to Use | Flavor/Aroma Profile |
| --- | --- | --- | --- | --- |
| Galena | 12 | 12 | Also an excellent dual-use hop. Better when boiled in small quantities. | Fruity aromas and citrus flavor. Later additions produce aromas of black currant. |
| Magnum | 12 | 14 | Used only as a bittering hop for its clean bitterness and not really for flavor or aroma. | Hoppy floral aroma with a subtle citrus notes. |
| Warrior | 14.5 | 18 | Clean, smooth bittering. | Inconspicuous citrusy, spicy aromas. |
Aroma and Flavor
Aroma and flavor hops have strong qualities that work well for late additions and dry-hopping.
For more information on this subject check out our resource on the best hops for dry hopping!
Adding hops in the middle of the boil creates flavor, and adding hops at the end of the boil will create more aroma.
While some hops can perform all three duties, there are a few varieties that are used almost exclusively for aroma and flavor as noted in the table below.
| Variety | Alpha Min | Alpha Max | Use | When to Use | Flavor/Aroma Profile |
| --- | --- | --- | --- | --- | --- |
| Amarillo | 7 | 11 | Aroma | Typically used in late boil additions, including dry hopping. | Spicy, tropical, citrusy flavor and aroma (orange, lemon, grapefruit, melon, apricot, and peach). |
| Cascade | 4.5 | 7 | Aroma & Flavor | Used throughout the brewing process. When used as a bittering hop, it imparts moderate bitterness. It has grapefruit flavor with floral and spice citrus qualities. | Big citrus, specifically grapefruit flavor. Aromas are floral and spice citrus. |
| Chinook | 12 | 14 | Aroma & Flavor | Used throughout the brewing process. Can be spicy/smokey and add a harsh bitterness if overused. | Piney with spice and grapefruit flavors. |
| Centennial | 9.5 | 11.5 | Aroma & Flavor | Used throughout the brewing process. | Medium intense floral, citrus and grapefruit flavors and aromas. |
| Citra | 12 | 16 | Aroma & Flavor | Used throughout the brewing process. | Imparts a citrus, tropical character including notes of grapefruit, peach, melon, lime and passion fruit with a smooth bitterness when added at the end of the boil. |
| Columbus | 14 | 18 | Aroma & Flavor | Strong flavor and aroma make it great for late boil addition or dry hopping. | Earthy, spicy aromas with a subtle citrus character. Floral and citrus aroma and flavor can be bold. |
| El Dorado | 13 | 17 | Aroma & Flavor | Presents fruity and tropical fruit flavor notes with a balanced bitterness when used as a bittering hop. | Dry hopping or late addition bring out tropical fruit, pear, watermelon, candy, and stone fruit. |
| Galaxy | 11 | 16 | Aroma & Flavor | High oil content and extremely versatile. | Strong passionfruit with citrus and peach flavors and aromas. No floral, pine, or spice. |
| Idaho 7 | 9.5 | 14.9 | Aroma | High oil content makes it ideal for dry hopping and whirlpool. | Tropical and citrus flavors of apricot, orange, red grapefruit, and papaya. Big resiney, piney notes with hints of floral and black tea. |
| Mosaic | 11.5 | 13.5 | Aroma & Flavor | Used throughout the brewing process. | Complex notes of grassy, earthy, blueberry citrusy, tropical, spice, and stone-fruit qualities. Provides unique flavor/aroma profile over other hop varieties. |
| Nugget | 9.5 | 16 | Aroma & Flavor | Used throughout the brewing process. | Mild, pleasant herbal aromas. |
| Simcoe | 11 | 15 | Aroma & Flavor | Often used for bittering due to high alpha acid content. Fruity, earthy aromas with hints of grapefruit, passion fruit, pine, and berry. | When used as a late addition, it brings out more fruity aromas. |
Yeast
Yeast is an essential component of any beer. It not only contributes to the production of the fruity flavor profile, but it also has an important role in the mouthfeel and juicy character of the style.
Many brewers recommend yeasts that are medium to low attenuating and flocculating with expressive esters for producing a good NEIPA.
For a more detailed look, check out my guide on choosing the best yeast for a NEIPA!
Here are things to consider when choosing the yeast for your NEIPA:
Esters – The compounds that create the fruity aromas and flavors in beer. Esters common to the NEIPA style are tropical, citrus, and stone fruit. Yeasts whose esters have these or complimentary flavor profiles will work best. A popular yeast is London Ale III (Wyeast 1318).
Pitch rates – The amount of yeast that is added to the cooled wort. Pitching rates for NEIPA is about the same as other ales. If you're unsure how much to pitch, try using a pitching calculator. Some professional brewers under-pitch to add stress which promotes ester development.
Fermentation temperature – Determines how quickly fermentation starts and how quickly the sugar is consumed by the yeast, which can play a big role in how the beer will taste. The fermentation temperature for NEIPA should start around 65-70°F and be allowed to rise naturally throughout the fermentation process.

Fermentation temperatures that are too high can cause the production of unwanted esters and phenolics, which produce off-flavors in your beer.
Fermenting at too low a temperature can cause yeast to stagnate and allow the growth of contaminants.

Attenuation – Lower attenuation yeast helps balance the hop-heavy character of the beer while adding body and accentuating the mouthfeel. If the yeast you choose is a higher attenuating yeast, you should mash at a lower temperature in order to maintain the appropriate haziness of the beer style.
Flocculation – Yeast strains with lower flocculation help bound malt and polyphenols remain in suspension longer and improves haze stability.
Dry
Some brewers prefer to use dry yeasts for general ease of use, shelf-life, and price. Unfortunately, many popular strains for NEIPA are only available in liquid form.
Most brewers that use dry yeast for NEIPA recommend Safale S-04, an English strain. Another dry yeast strain that's quite common is LalBrew New England.
Below are other strains of dry yeast and their characteristics for NEIPA that are recommended by homebrewers:
| Strain | Flavors | Min Attenuation | Max Attenuation | Flocculation |
| --- | --- | --- | --- | --- |
| Lalbrew Verdant New England | Prominent notes of apricot with undertones of tropical fruit and citrus. | 64 | 73 | High |
| Safale S-04 | Fruity stone-fruit and peach esters that complement juicy hops. Similar to London Ale III yeast. | 74 | 82 | High |
| Wyeast Labs WLP007 Dry English Ale | Similar in flavor profile to WLP002, but it is 10% more attenuative and reaches terminal gravity quickly. | 80 | 85 | High |
Liquid
Most yeast strains commonly used for NEIPA are liquid yeasts.
The most popular yeast strain used for hazy IPAs is Wyeast 1318 London III by both home and commercial brewers alike. It has a wonderfully fruity, soft, balanced palate that finishes slightly sweet.
Below are other strains of liquid yeast and their characteristics for NEIPA that are recommended by homebrewers:
| Strain | Flavors | Min Attenuation | Max Attenuation | Flocculation |
| --- | --- | --- | --- | --- |
| Coastal Hazy Ale Yeast Blend WLP067 | Dry and juicy with mango and pineapple notes. Low flocculation with tropical fruit esters like mango and pineapple. | 70 | 75 | Medium-low |
| Imperial Yeast A24 Dry Hop | Produces stone-fruit esters when paired with citrus hops. | 74 | 78 | Medium |
| Imperial yeast A38 Juice | Brings out juice and aromas of hops. Provides a rounded mouthfeel with sharp citrus notes. | 72 | 76 | Medium |
| Omega Yeast Lab OYL-052 DIPA Ale | Unique ester reminiscent of peaches that complements an aggressive use of hops. | 72 | 80 | Medium-low |
| White Labs WLP066 London Fog | Low flocculation with a medium ester profile that adds residual sweetness. Velvety mouthfeel with accentuated malt and hop flavors. | 65 | 70 | Medium-high |
| White Labs WLP095 (Burlington Ale) | Produces a more juicy and estery character and a fruit forward flavor profile with mango and pineapple characteristics. | 73 | 78 | Medium |
| Wyeast 1187 Ringwood Ale | Distinct fruity ester with flavors of peach, apricot, and pineapple, and a complex malty profile. | 68 | 72 | High |
| Wyeast 1318 London Ale III | Fruity and soft with a sweet finish. Nice malt and hop profile. | 71 | 75 | High |
Brewing process for a NEIPA (New England Pale Ale)
On brew day, it's important to prepare everything ahead for a smooth brewing process. Remember if you're pitching a starter yeast, you may need to do that prior to brew day.
You should complete the following activities before you start brewing:
Mill the grains
Measure the hops
Prepare your water
Sterilize and stage all your equipment
Once your prep is complete, you'll complete the following general steps. These are also the steps you'll find in a typical beer recipe:
Mash
Boil
Whirlpool or flameout
Mashing
Mashing temperatures can impact the body of your beer.
The ideal mash temperature for NEIPA is 152-155°F.
Mash too low and your beer will be dry and thin. Mashing at higher temperatures (154-156°F) is advised by commercial brewers to obtain a sweeter, fuller body.
Boil
Depending on the style of hops you're using, you will add them in at varying points during your boil:
Bittering hops are added once the wort has achieved a rolling boil. For NEIPA it's typical to add a few bittering hops at the beginning of a 60-minute boil, then wait until flameout to add the rest of the hops in the recipe (if you are not double-hopping).
Flavoring hops are added with 15 to 30 minutes remaining in the boil. This adds a crisp, hoppy flavor without adding bitterness. Again, they can be the same as your bittering or aroma hops. It's the time boiled that makes the difference.
Add aroma hops during the last 5 minutes of the boil, or at whirlpool or flameout. Aroma hops have oils that are extremely volatile and will be driven off by the steam of your boil. For that reason, aroma hops should not be boiled for long. Adding hops late in the boil (or later) will produce the maximum aroma.
Whirlpool or flameout
Flameout refers to the time after removing the boiling wort from the heat source.
After cooling the wort for about 20 minutes to 170°F, it's time to add flavor and aroma hops, then proceed with a whirlpool.
Whirlpooling separates the trub from the wort. Simply use a sterilized spoon to gently stir the wort in a circular motion for one to two minutes. Be careful not to splash or stir too vigorously during this step with NEIPA as it could add oxygen to the wort. Oxidation for a NEIPA is disastrous as it will introduce off-flavors that may ruin your batch.
Fermenting a NEIPA
The process for fermenting NEIPA isn't much different than other IPAs.
Once you transfer the chilled wort to the fermenter, pitch the yeast starter into the fermenter and seal it with an airlock or blow-off tube. Ferment at 68-72°F for 1 to 2 days, then add dry hops at high krausen.
Continue fermenting until the gravity stabilizes, usually around 5 – 7 days.
Temperatures
Fermentation temperatures for NEIPA depend on the yeast used.
American ale yeasts prefer temperatures between 68-72°F. Aim for the lower-middle temperature of the range.
It's important to control the fermentation temperature according to the preference of the yeast you use. The temperature should remain consistent during fermentation.
Dry-hopping a NEIPA
Dry-hopping, or adding hops after the wort has cooled, prevents the volatile oils from being boiled off by hot wort. These oils are what produce the tropical, citrusy, stone fruit, and pine aromas that are essential to the NEIPA style.
Pellet hops are preferred because leaf hops take up more space in the fermenter and can soak up more of your beer.
Active fermentation
Adding hops during fermentation lets brewers add more hop flavor and aroma without adding bitterness.
The newest trend for NEIPA is dry-hopping during active fermentation on days 0 to 5. This process, called biotransformation, is believed to produce a more pronounced and juicy tropical fruit flavor due to the chemical reactions between the yeast and hops during active fermentation than using traditional dry-hopping methods.
It's important during this process to save the majority of your dry hops until fermentation has reached terminal gravity (or high krausen). This way, the yeast won't eat the sugars and blow out the flavor from your hops. Most commercial NEIPA brewers like Trillium do it this way.
Post-fermentation
Classic American IPAs are typically dry-hopped after primary fermentation has been completed. The beer should stay in contact with the hops for at least 2 to 4 days before it's packaged.
Dry-hopping after primary fermentation and skipping secondary fermentation are recommended to reduce oxidation from racking.
Double dry-hopping
Many NEIPA brewers choose to dry hop twice, adding hops both during active fermentation and again a few days before packaging. This process, known as double dry-hopping, helps create a very fresh, fruity flavor in your beer.
If you plan to double dry-hop, add ¼ – ⅓ of your total dry hops to the fermenter about 3 days before packaging.
Bottling or kegging a NEIPA
Kegging NEIPA is recommended to prevent oxidation of the beer during packaging. If you plan to bottle your NEIPA, take extra care to minimize introducing oxygen into the beer during the process.
Condition the beer for 3 to 6 days at room temperature. Check to see that the carbonation is at a desirable level. NEIPA degrades with age, so you will want to drink it in the month after bottling for its peak flavor.
NEIPA recipe
This example NEIPA recipe by Gordon Strong from Brew Your Own Beer Magazine uses flaked wheat and oats for some extra body along with Golden Promise, which adds a little malt interest. The base grain is a 2-row malt. The water is treated with both calcium chloride and sulfate.
Amarillo hops will add a peachy flavor. Since they are the lowest acid hops, they'll be used for bittering. For late hopping, this recipe uses Citra with its mango-guava notes, Galaxy for its passionfruit flavors, and Mosaic, which provides a sweet pineapple flavor. While this beer is very fruity, it should not be overly sweet.
Ingredients
9 lbs. US 2-row malt
2 lbs. UK Golden Promise malt
12 oz. Flaked oats
16 oz. Flaked wheat
3 oz. Amarillo hops (divided)
4 oz. Citra hops (divided)
2.5 oz. Galaxy hops (divided)
2.5 oz. Mosaic hops
GigaYeast GY054 Vermont IPA
3/4 cup Corn sugar (if priming)
Method
On brew day, mill the grains, measure the hops and prepare the water.
Prepare reverse osmosis water by adding per 5 gallons of brewing water: ¼ tsp. of 10% phosphoric acid or until water pH measures 5.5 at room temperature.
To the mash, add ¾ tsp. Calcium chloride (CaCl2) and ¼ tsp. Calcium sulfate (CaSO4).
Mash in all the grains at 152°F in 5 gallons of water, and hold at this temperature for 60 minutes.
Raise the temperature to 168°F to mashout. Recirculate for 15 minutes.
Fly sparge with 168°F water until 6.5 gallons or wort is collected.
Boil the wort for 75 minutes.

Just before lautering begins – Add 1.5 oz. Amarillo hops to the kettle
Add 0-minute hops (right after the heat is turned off) – Another 1.5 oz. of Amarillo hops.
Stir the wort gently and allow to cool to 180°F then add the hop stand hops – 1 oz. each of Citra, Galaxy, and Mosaic hops.

Allow to stand for 20 minutes, then chill to 64°F, and rack to the fermenter.
Oxygenate, then pitch the yeast. Start fermentation at 64° F, and allow the temperature to arise naturally as fermentation progresses.
Mix the dry hops, then divide them into three equal portions – 3 oz. Citra hops, 1.5 oz each of Galaxy and Mosaic hops. Allow each dry hop to be in contact with the beer for 2 or 3 days before removing.

Add the first portion after 2 days of active fermentation.
Add the second portion at the end of fermentation.
Add the third portion of the hops 3 days after fermentation ends.

Rack the beer, prime and bottle condition or keg and force carbonate to 2.5 volumes.
To learn more about this recipe and Gordon's detailed brewing process, read his article on the NEIPA style profile.
Did you know that we have a full library of homebrew beer recipes for every style?