As one of the most classic beer styles, many homebrewers enjoy trying their hand at perfecting their own German Pilsner. It has an unmistakable profile and, when done right, makes a great addition to any homebrewer's repertoire. Let's walk through some popular German Pilsner recipes and learn how to brew a German Pilsner!
Brewing a German Pilsner requires quality ingredients such as two-row Pilsner malt and German noble hops. The delicate, floral quality of hops such as Saaz or Hallertauer provides the clean, crisp taste beer drinkers expect when enjoying a German Pilsner. The result should be highly carbonated with low bitterness and a relatively low ABV (~5%).
Keep reading for more about the German Pilsner style as well as an in-depth look at how you can brew your own.
What is a German Pilsner?
Budweiser, PBR, and other popular mass-market beers are often mistaken as Pilsners, but they are more accurately American-adjunct beers brewed in the Pilsner style. If these beers are your baseline for the brew, you're in for a pleasant surprise!
With its distinctively light color, crisp and floral flavors, and a short finish, the German Pilsner is a classic, popular style of beer. Primary characteristics include:
Color – Pale straw to gold in color with an SRM of 3-4
Common flavor – Sweetness from malt with low bitterness
Aroma – Floral, hoppy
Mouthfeel – A soft body with spirited carbonation
IBUs (Bitterness) – 25-50
ABV – 4.6%-5.3%
Let's learn more about what sets the German Pilsner apart.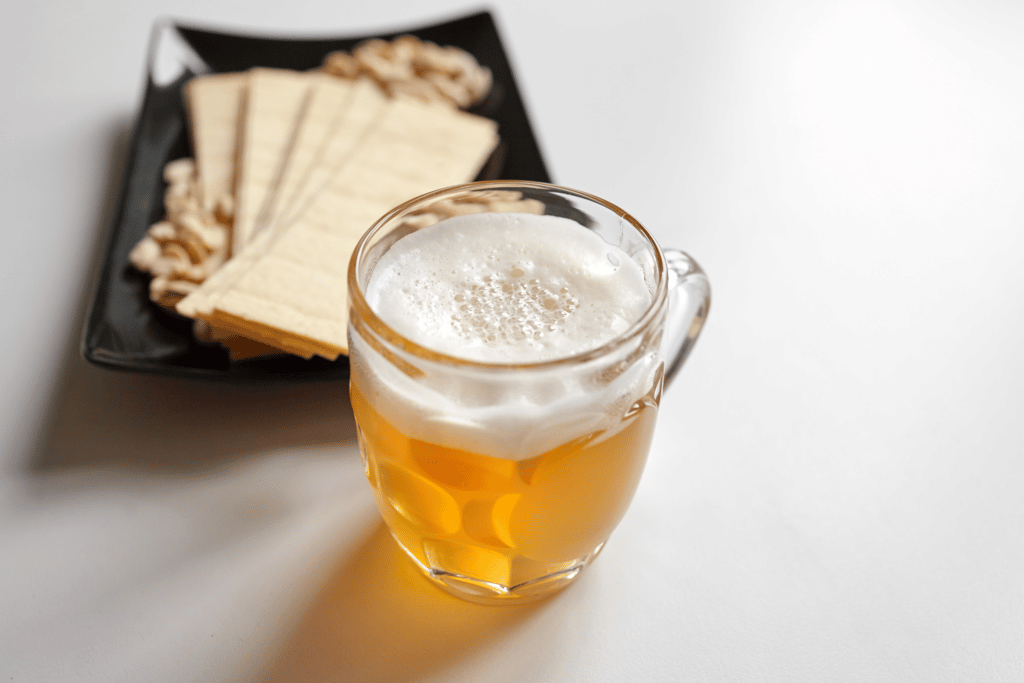 History of the German Pilsner
One of the most classic beer styles today, the German Pilsner originates from the town of Plzeň in Czech Bohemia. Bavarian brewer Josef Groll (1813-1887) developed the style for the Citizen's Brewery in Plzeň, a town with an influential German population. The style quickly gained popularity and within 30 years Pilsner Urquell hit the market.
Despite its popularity, change came slowly for breweries who had mostly focused their production on Bavarian-style Dunkel. Before WWII, only 1 in 10 breweries in Germany brewed pilsners. That changed with the intervention of Professor Ludwig Narziss. Formerly the head brewer of Löwenbräu, Narziss guided many breweries through the process of creating a clean, crisp, light, pilsner-style beer.
The German-style Pilsner is distinct from its Bohemian predecessor because of its distinct diacetyl flavor (a buttery compound) and its embrace the herbal aroma of Czech Saaz hops.
Today, it's estimated that beers labeled pils, pilsner, and pilsener account for two-thirds of all beer sold in Germany.
Popular commercial German Pilsners
There are many popular commercial German Pilsners to try.
Some of our favorites include:
Pilsner Urquell – Pilsner Urquell has used the same recipe for 175 years. Crisp and malty with a thick, creamy head.
Bitburger Premium Pils – Particularly popular in Germany, this pils has hoppy, floral, nutty notes with a honeyed finish.
Rothaus Pils Tannenzӓpfle – While this may not be the easiest beer to find, it's worth it. Malty sweetness is balanced by bitter hops. Notes of lemon and spices.
Popular pilsner recipe kits (all-grain or extract)
Recipe and ingredients for a German Pilsner
With some history and information about German Pilsners out of the way, let's dive into the nuts and bolts of how to brew a German Pilsner.
Below I will cover the major ingredients, brewing, fermenting, and packaging. The entire process will take roughly 3-4 weeks, depending on how long you let the beer age.
You can't make good beer without the right quality ingredients.
This means you need to know what ingredients work best for the style, including:
Water profile
Base grains
Specialty grains or other additions
Hops
Yeast
Like any other homebrewed beer, you'll need to have the proper ingredients and an understanding of your water profile.
There's room to experiment with a German Pilsner, as well, so don't feel hemmed in by any particular recipe.
Keep reading for helpful tips and guidelines for brewing your own German Pilsner.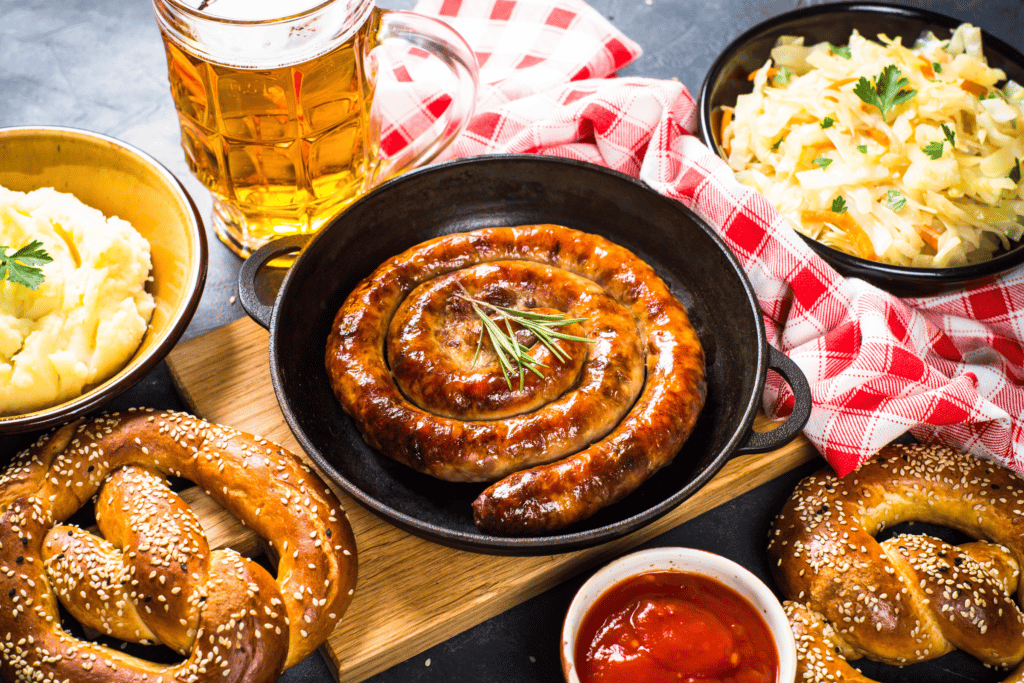 Water profile
At a minimum, it's critical to brew beer with water that you would like to drink, as it is the foundation of your beer.
To make an authentic German Pilsner, test your water and adjust the profile for hard water and relatively high sulfate content.
With an appropriate sulfate-to-chloride ration (around 100ppm to 85 ppm, respectively), you'll amplify hoppiness and produce that dry, crisp taste German Pilsners are known for.
To learn more about this aspect of pilsners, check out my article all about the best water profile for pilsners!
Base grains
Second only to the water's integrity in importance to homebrewing are the base grains.
In terms of brewing German Pilsners, it's particularly easy: use Pilsner malt. You can accentuate with a small amount of Victory malt and could use Maris malt as well.
A Bavarian-farmed Pilsner malt such as Weyermann will produce the malty sweetness and pale color characteristic of German Pilsner.
Be on the lookout for cheap additions such as flaked maize or rice in the Pilsner malts. These may not react well in a recipe that assumes 100% two-row Bavarian malt.
Specialty grains or other additions
While it may seem too good to be true, it's best to let the malt and hops speak for a German Pilsner.
Brewing a quality German Pilsner requires limiting the brew to just a few ingredients in order to capture that dry, crisp, clean character the German Pilsner is known for.
Hops
With so few ingredients and a heavy reliance on technique, choosing the right hops for your German Pilsner is critical.
Using any of the German noble hops – Hallertauer, Tettnanger, Saaz, and/or Spalt – is the best way to produce a great-tasting German Pilsner.
Saaz is perhaps the most common, and some recipes call for an addition of Warrior. In most cases, however, the recipe uses just one hop variety to keep the profile clean.
Here is a quick guide on dry hopping Pilsners!
Bittering
Bittering hops are added at the start of the boil when the heat is highest and best primed to release only bitter oils from the hops.
Many brewers choose to bitter their German Pilsners with the same variety of hops they add later in the boil. The hops that are added for bitterness do not impart much in the way of flavor but instead elevate the IBU of the beer.
Because of the delicate way in which German noble hops are present, it's best to use the same hops throughout the boil not just for cohesion but also to prevent overwhelming the later-addition hops.
Aroma and flavor
Hops added later in the boil impart more flavors and aromas when the wort isn't as hot.
With German Pilsners, it's best to use the German noble hops as mentioned above to capture that quintessential German Pilsner character. They tend to be grassier, more herbal, and more delicate than their American hop counterparts.
| | | |
| --- | --- | --- |
| Name | Flavor/Aroma | Alpha Acid |
| Saaz | Spicy, floral | 2.5-4% |
| Tettnanger | Earthy, mildly floral | 3-5.8% |
| Hallertauer | Citrus, herbal | 3.5-4% |
| Spalt | Woody, spicy | 2.5-5.7% |
Many brewers like to use just one or two hops in a German Pilsner to keep the profile clean and cohesive.
Yeast
Using a highly-attenuating, clean lager yeast is the best way to brew a German Pilsner.
You can use either dry or liquid yeast.
For a more comprehensive resource I have an entire guide on the best yeast for pilsner beers!
Dry
Below are a couple of popular dry yeasts for brewing a German Pilsner:
| | | | |
| --- | --- | --- | --- |
| Name | Attenuation | Flocculation | Temperature Range |
| SafLager W-34/70 | High | Medium-high | 53.6-64.4°F |
| Mangrove Jack's M76 | High | Medium | 45-57°F |
Liquid
There are more options when choosing to brew a lager with liquid yeast.
Here are great yeast strains to brew a German Pilsner:
White Labs 830 German Lager
Wyeast 2247 European Lager
| | | | |
| --- | --- | --- | --- |
| Name | Attenuation | Flocculation | Temperature Range |
| White Labs 830 German Lager | Medium-high | Medium | 50-55°F |
| Wyeast 2124 Bohemian Lager | Medium-high | Low medium | 45-68°F |
| Wyeast 2247 European Lager | Medium-high | low | 46-56°F |
Brewing process for German Pilsners
After collecting all your ingredients, you're ready for brew day! Ensure your equipment is properly cleaned and sanitized and read through your recipe before beginning.
Before the brew day, make sure you've answered all variable questions: your quantities, batch size, hop schedule, and yeast methodology.
Basically, your brew day will consist of mashing the grains, vorlauf, lauter, and sparge before cooling the wort and pitching the yeast.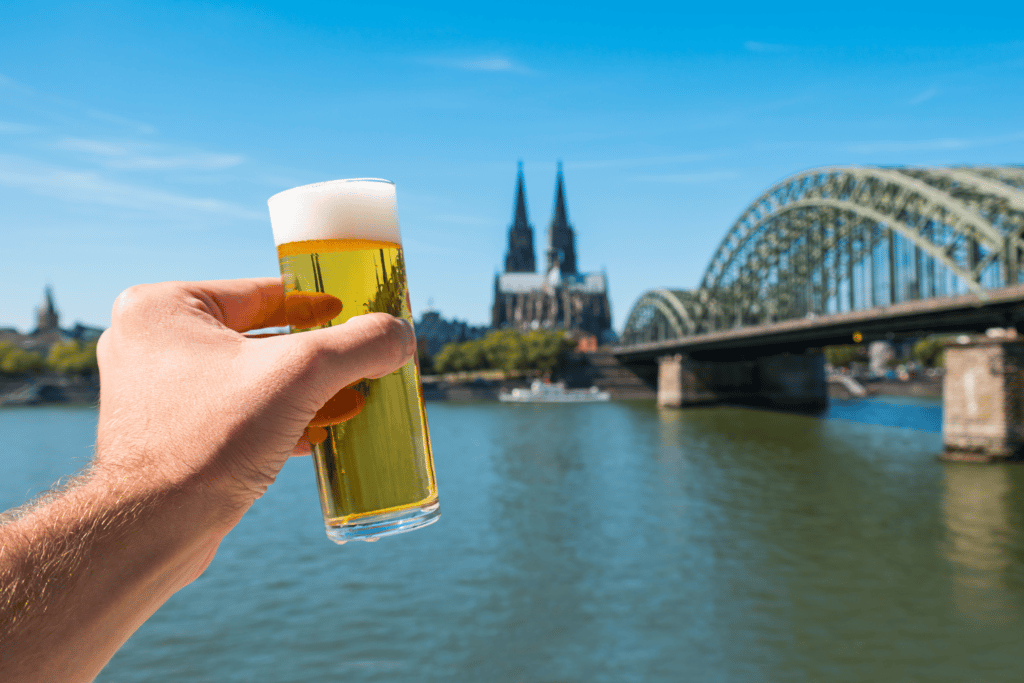 Mashing
For a German Pilsner, you'll want to do a single infusion mash, holding the temperature between 148 and 152°F for 60 minutes for best results.
Once the mash has concluded, you'll then vorlauf to clarify the wort. Drain off a couple of quarts of the sweet wort and gently pour it back onto the grain bed; repeat this process until all of the grain particles have become trapped in the grain bed, and the wort runs clear.
From there, lauter and sparge by filtering your clean wort into a waiting brew pot, away from the grain bed. Continue this process with the spent grains, dousing them with hot water, vorlauf, and lauter again until you collect up the right amount of wort for your recipe.
Boil
Bring your wort to a vigorous rolling boil and hold it there for 90 minutes. Keep a watchful eye to prevent dangerous boil-overs.
Add your bittering and flavor hops according to the schedule in your recipe.
Whirlpool or flameout
To achieve different flavors and aromas from the hops, you can add them at various points during the boil. As discussed above, bittering hops are added when the heat is at its highest, in the beginning. Flavor hops are added later, and sometimes finishing hops are added during flameout.
Follow the schedule on your given recipe, but in many cases, when brewing a German Pilsner, a certain amount of bittering hops will be added first, and then followed by another addition later in the boil. For clean taste and aroma, hops are rarely added during flameout with a German Pilsner.
Following flameout, begin chilling the wort immediately. Transfer it to a fermenter and aerate for healthy yeast development.
Fermenting a German Pilsner
If you're used to fermenting lagers, the German Pilsner follows the same methodology. Following the temperature guidelines of your yeast, pitch into the appropriately-cooled wort. You can use a starter or sprinkle dry yeast directly onto the wort.
As the yeast works its magic, the temperature will rise.
A German Pilsner will need to be stored at 54°F and should begin fermenting within 24-72 hours.
Temperatures
Lagers need to ferment at lower temperatures.
Keep your German Pilsner in a cool, dark environment with a stable temperature of around 54°F for approximately two weeks. Fermentation is likely over if the gravity hasn't changed for about three days.
At this point, the beer can be racked to secondary for two to three days.
To clarify the beer, some homebrewers recommend cold-crashing at 35°F before packaging.
Bottling or kegging German Pilsners
It's always a critical question for homebrewers: to keg or to bottle?
In the case of German-style pilsners, the question is more about the storage space you have available rather than whether it's best to keg or bottle.
It's best to keep German Pilsners at very low temperatures (near freezing!) for about a month before consumption. If you have the space to keep a keg in that condition, then go for it.
Otherwise, you can bottle the beer and condition it for a month (6-8 weeks would be even better) at very low temperatures before cracking one open to enjoy.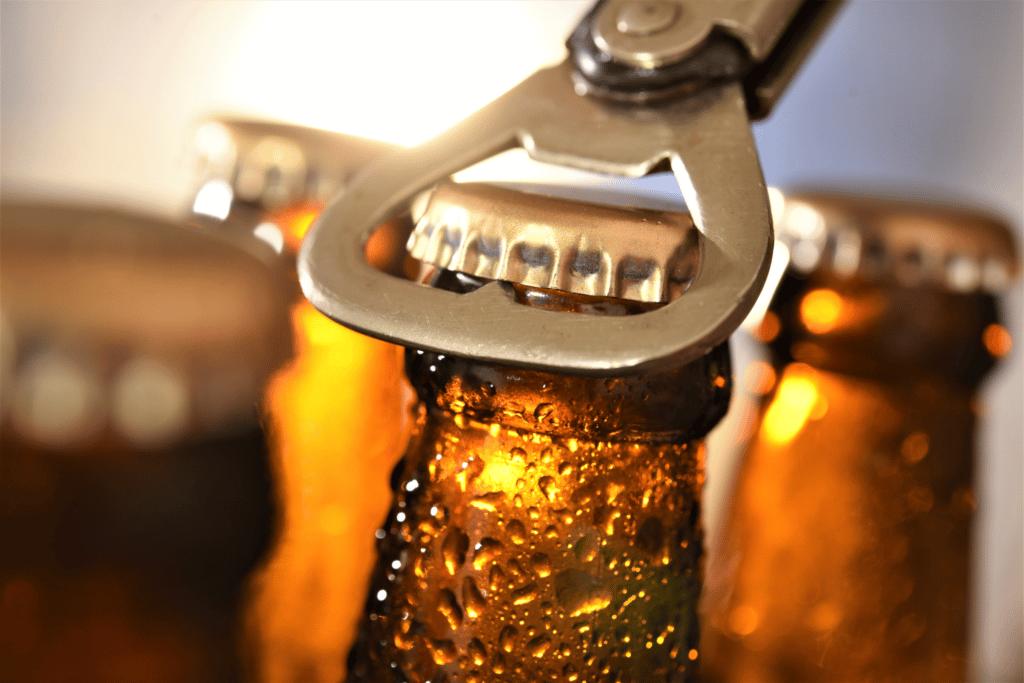 German Pilsner recipes
There are many German Pilsner recipes online for you to try. We recommend following the instructions exactly the first time before attempting to experiment. Below you'll find an easy-to-follow German Pilsner recipe.
Mash
17.5 lb German pilsner malt (100%)
Boil
5 oz German Tettnanger hops (4%) – Added during boil, boiled 60 min [31.2 IBU]
1 Whirlfloc tablet (Irish moss) – Added during boil, boiled 15 min
1.5 oz German Hallertau hops (3.2%) – Added during boil, boiled 15 min [3.6 IBU]
1.5 oz German Hallertau hops (3.2%) – Added during boil, boiled 1 min [0.3 IBU]
Yeast
Fermentis Saflager W-34/70 dry yeast
Method
Infusion mash for 120 minutes at 148°F.
Vorlauf, lauter, and batch sparge.
Boil for 90 minutes, adding whirlfloc and hops on schedule.
Cool wort to 90°F quickly; transfer to a fermenter and aerate.
Pitch yeast at 50°F.
Ferment at 50°F, allowing the temperature to come up gradually to room temperature until fermentation is finished, approximately three days.
Keep in a cool, dark space for about two weeks.
Transfer to secondary fermentation for two to three days before cold crashing for 48 hours.
Bottle or keg and keep at 34°F for four to eight weeks.
Now that you know how to brew a pilsner, check out the best pilsners to try in 2022!
Did you know that we have a full library of homebrew beer recipes for every style?