If you had to pick between drinking a Budweiser or a Samuel Adams Boston Lager, which would you choose? No matter which beer you choose you're going to have your reasons behind the choice. What is it about each beer that draws its fans?
Sam Adams Boston Lager and Budweiser are both popular beers of average price with a 5% ABV. Beyond that, Boston Lager is heavier in calories and carbs and has more flavor than other domestic beers, including Bud. Despite being less flavorful (or perhaps because of that approachable drinkability), Budweiser is the more popular choice for most.
Keep reading to discover the differences (and a few similarities!) between Budweiser and Samuel Adams Boston Lager.
Sam Adams Boston Lager vs Budweiser comparison overview
Sam Adams Boston Lager and Budweiser can often be found side by side on a bar's taps. However, between the two beers' origins and characters, there are a lot of differences.
Sam Adams Boston Lager is a full-flavored Vienna Lager that seeks to provide great, easy-drinking beer. To that end, the hop bitterness is evident without being overpowering. There is a wider range of flavors than commonly seen in commercial beers.
Boston Lager got its start in Jim Koch's kitchen. It existed as a craft beer for many years before reaching commercial popularity which makes folks question whether it still is a craft beer.
Budweiser is light but still has decent malt flavors and endless drinkability.
Budweiser has been around much longer than Sam Adams. With this history, it has entrenched itself as one of the best light American Lagers. This lends itself to the marketing slogan the "King of Beers."
Budweiser, often called Bud Heavy, is more in every sense when compared to its brother beer Bud Light. Compared to Sam Adams Boston Lager the differences are not so extreme.
| Comparison | Sam Adams Boston Lager | Budweiser |
| --- | --- | --- |
| Calories | 175 | 145 |
| Carbs | 18 grams | 10.6 grams |
| ABV | 5% | 5% |
| Ingredients | 2-row pale malt, Caramel 60, Hallertau hops, Tettnang hops, Sam Adams lager yeast | Barley, rice, water, yeast, hops |
| Taste | Fresh bread, spice, floral, bitterness | Crisp, slight bitterness, light malts, medium to high carbonation |
| Aroma | Fresh bread | Light sweet malts |
| Cost (6 pack) | $9.50 | $9 |
| Popularity (in popular opinion Q4 2022 US) | 7th | 6th |
| History | First released in 1984 | First released in 1876 |
Sam Adams vs Budweiser– calories, carbs, ABV, ingredients, taste, aroma, cost
What is the difference between Sam Adams Boston Lager and Budweiser?
When it comes to these two beers there are many factors we can use to compare them.
Using the below aspects let's break down the differences between Sam Adams Boston Lager and Budweiser.
Sam Adams vs Budweiser calories
Sam Adams vs Budweiser carbs
Sam Adams vs Budweiser alcohol content (ABV)
Sam Adams vs Budweiser ingredients
Sam Adams vs Budweiser taste, flavors, and aroma
Cost
Popularity and sales
History
The first few aspects – calories, carbs, alcohol content, and ingredients – help to determine the objective differences between the recipe and the final product.
Then we can break down why people like one over the other. By covering the taste, flavors, and aromas of the two beers we can highlight some of the subjective reasons for people's preferences.
Lastly, we'll cover the marketing and history of the two beers. That will include the cost, popularity, and sales of Sam Adams Boston Lager and Budweiser.
Sam Adams Boston Lager
I don't think it's a stretch to say that Samuel Adams (the brewery, not the cousin of John Adams for which it's named) is the godfather of the craft beer movement. Unlike most of the beer companies that dominate the top ten lists, Sam Adams is still considered an independent brewery.
Sam Adams' flagship Boston Lager is a bready, flavorful beer that comes in at 5% ABV. Due to its relatively low hoppiness and easy availability, it's the most popular craft beer in the U.S.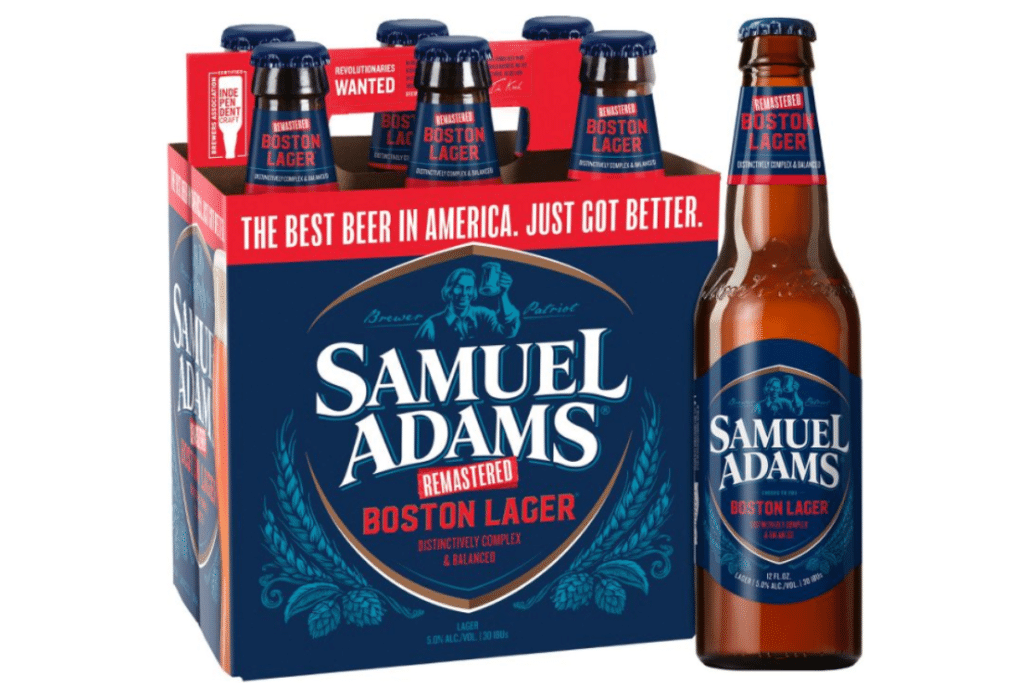 What makes this beer so special? Let's take a look!
Calories, carbs, and other nutritional facts
A 12-ounce can of Sam Adams Boston Lager contains 175 calories, 18 grams of carbs, 2 grams of protein, and zero grams of fat.
To put that another way, 200 calories is roughly 3 eggs. To reach the average recommended daily caloric intake you'd only have to drink about 11 and a half Boston Lagers.
Alcohol Content (ABV)
Sam Adams walks the line between the drinkability of mass-market beer and the focus on the experience provided by most craft beers. To that end, it's a little higher in calories than some beers, but it packs a lot of punch!
Each 12-ounce can or bottle of Sam Adams Boston Lager has 5% alcohol by volume (ABV).
Most inebriation cheat sheets assume you're drinking a 4.5% ABV beer so they should still be fairly accurate when drinking Sam Adams Boston Lager.
Ingredients
Unlike most commercial brewers, Samuel Adams releases their ingredient list. They don't tend to release their recipe of course, but what goes into the beer is free knowledge.
Sam Adams Boston Lager is brewed with 6 ingredients: water, Sam Adams 2-row pale malt, Caramel 60, Hallertau hops, Tettnang hops, and Sam Adamas lager yeast.
The yeast and pale malt are proprietary Samuel Adams strains that the company has cultivated. This offers a uniqueness you can't find elsewhere. As for their hops, they pride themselves on only using the best quality hops.
Hallertau hops lend slightly spicy, fruity, and floral flavor notes. The companion Tettnang hops add citrus, floral, and woody flavor notes.
Taste, flavors, and aroma
Sam Adams claims that this beer was originally brewed with flavor in mind that Jim Koch believed "beer drinkers deserved a better American beer option."
Sam Adams Boston Lager has notes of floral hops, fresh bread, and spice. It provides malt flavors with a touch of hop bitterness. The aroma is similar to the taste with a focus on the bready notes.
There is some sweetness to this beer in addition to the above flavors. This gives it a decently full body. The carbonation level is on the lower end of average which makes it easy to drink.
To get a better breakdown of Sam Adams Boston Lager read this article.
Samuel Adams has recently "remastered" the Boston Lager. They claim to not have changed the recipe though several consumers have noted a decrease in quality. Whether this is a vocal minority or truth is difficult to say. Try a Boston Lager and decide for yourself.
Cost
What really sets Sam Adams apart from other craft breweries is the price. While small-batch beverages can really set you back, the Boston Lager is priced competitively with comparable domestic beers.
A 6-pack of 12-ounce Sam Adams Boston Lagers costs roughly $9.50. This can vary depending on your region and whether you get cans or bottles.
Boston Lager is available in many different packaging sizes and prices. At a bar, you might find it for roughly $5.
Popularity and sales
Sam Adams Boston Lager was recently ranked the second most important craft beer ever brewed by Food&Wine, but how does it stack up against mass-market beers?
According to YouGovAmerica, Sam Adams Boston Lager is 7th in popularity in the US during quarter 4 of 2022. It has a popularity score of 46% and a fame score of 90%.
The popularity score is based on the percentage of people who think positively of the beer. The fame score is less judgemental as it is simply the percentage of people who've heard of it.
During 2022, net revenue for Boston Beer Company – owners of Samuel Adams and several other brands – increased by 1.6%. This resulted in a net income of $67.3 million. Of this, Samuel Adams is a portion though likely not the majority.
History
Samuel Adams Boston Lager first came to be when Jim Koch – founder of Boston Brewin Co – found a beer recipe belonging to his two times great grandfather (Louis Koch).
Jim Koch brewed this beer in his home in 1984. This was followed by his founding of Boston Beer Co.
In 1985, Sam Adams Boston Lager won best beer at the Great American Beer Festival. Since then, the beer has only grown in popularity. In these early years, Koch relied on contract brewing but, by 1987, the Boston Beer Company had its first brewery.
This enabled the company to take a stab at many other beer styles. Fast forward a couple of decades and Sam Adams Boston Lager becomes the official beer of the Red Sox in 2018.
Budweiser
Budweiser is a medium-bodied American-style adjunct lager with a crispy mouthfeel.
While not as popular as its light counterpart, Budweiser has a crisp, delicate flavor that makes it a staple in grocery stores and American kitchens.
Want to know more about this ubiquitous beer? Keep reading!
Calories, carbs, and other nutrition facts
A 12-ounce can of Budweiser contains 145 calories, 10.6 grams of carbs, 1.3 grams of protein, and 0 grams of fat.
For context, an average latte is roughly 150 calories.
Alcohol Content (ABV)
Each 12-ounce can or bottle of Budweiser has 5% alcohol by volume (ABV) in the US.
The ABV of Budweiser is the same in Canada, Thailand, India, and the Netherlands. However, it is slightly different in several countries including the U.K., China, and Australia.
Ingredients
Unlike Boston Beer Company, Anheuser-Busch does not disclose the exact ingredient list.
Budweiser is brewed with 2-row and 6-row barley malt, water, hops, rice, and yeast despite the fact they do not list it.
The only additional information they provide is generic quality assurances.
Taste, flavors, and aroma
Budweiser's aroma greets you with light malts and sweet rice.
The taste is crisp with faint notes of sweet bready flavors, rice, and a hint of hop bitterness. The finish is quick with some bitterness. The mouthfeel is carbonated and mostly watery.
Compared to Bud Light, there is slightly more flavor in Budweiser. It seems like Budweiser does not rely on heavy carbonation and cold temps quite as much. That said, it is still an AAL where strong flavors are discouraged.
For a more detailed breakdown of what Budweiser tastes like, check out this article.
Cost
A pack of Budweiser is likely to cost you about the same as the Boston Lager.
A 6-pack of 12-ounce Budweiser costs about $9 depending on your area. Tallboys (25 oz) cost about $3 depending on the area.
Budweiser is available in many package sizes. Aside from 6 packs and individual cans, there are 12 packs, 30 packs, and more.
Popularity and sales
In 2021, the Budweiser brand was valued at 16.17 billion U.S. dollars.
According to YouGovAmerica, Budweiser is the 6th most popular beer in the US.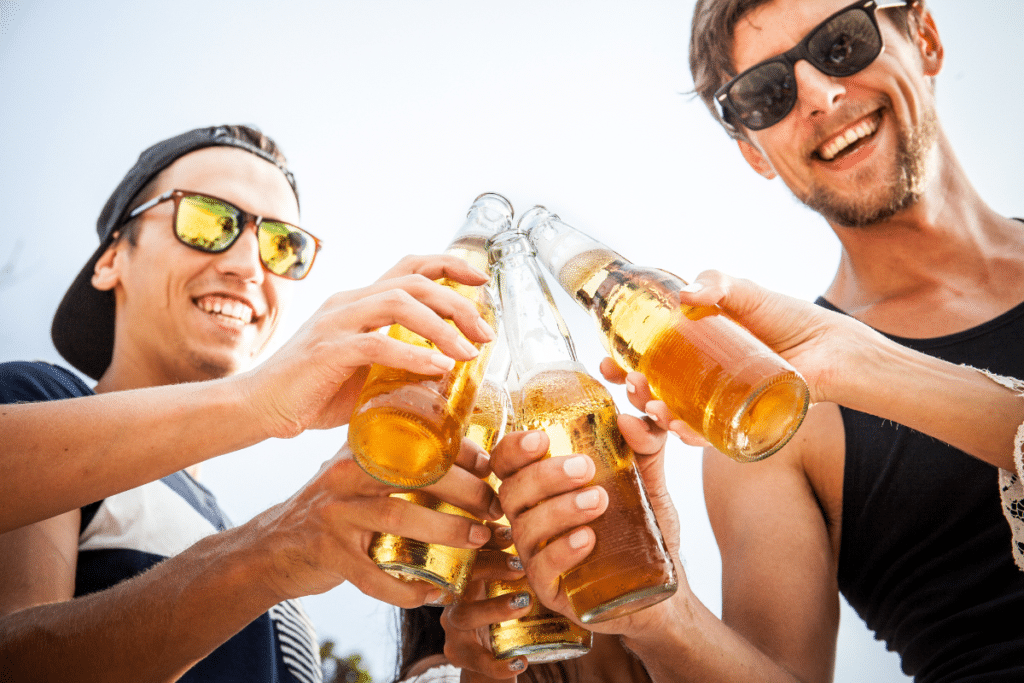 Budweiser has a popularity rating of 46% on YouGovAmerica and a fame rating of 97%. The popularity is closely comparable to Sam Adams but more Americans have heard of Budweiser.
History
Budweiser was first brewed by Anheuser-Busch in 1876 with Carl Conrad – a St. Louis bottler.
Since its inception, Budweiser has been a light and easily drinkable beer. As one of AB InBev's flagship brands, it enjoys extensive marketing.
Since 1907, Anheuser-Busch has been engaged in a legal battle with Budweiser Budvar Brewery. This is because Budweiser is not a name unique to Anheuser-Busch. The Budweiser Budvar Brewery has been brewing a beer under that name since roughly 1265.
As a result of this legal battle, Anheuser-Busch can market its beer as Budweiser in North America. Everywhere else it is marketed as Bud.